September 13, 2014 By thegomom Leave a Comment
No two women are alike, so goes the new tagline of Lactacyd Feminine care line.  I was invited to the glamorous launch of Lactacyd last week at the Crowne Plaza and I was thrilled to see their Brand Ambassador, Anne Curtis, live!
I always thought Anne Curtis is pretty but when I saw her at the event,  she was more than just a pretty face.  She is oozing with confidence,  is vibrant, light and fun.  I'm a fan!  O di ba, now I follow her on Twitter and Instagram!
In the event, they launched the newest variant of Lactacyd, "Cool and Fresh" with a light and fun TV commercial of Anne Curtis.

They also highlighted the 5 variants of Lactacyd.  You know when there are so many variants, you go by what is prettiest to the eye, pleasant to the smell.  Or maybe just reach out for the original variant.  I'm both depending on how much time I have in the grocery:-)
But it would be good to know what to reach out for because more than just the packaging and the smell,  each variant addresses our different needs, personalities, lifestyle and hygienic care routines.
Lactacyd Protecting is best for women who may experience irritation as a result of daily activities and humidity. Thanks to lactoserum and lactic acid, this classic Lactacyd keeps itching, irritation and odor away through its delicate caring properties.
Lactacyd White Intimate is a whitening feminine wash that provides women with safe and clinically-tested cleansing with effective lightening of the bikini area.   Made with natural plant-based Actipone-B, marine-based Algowhite, and milk-ingredients, Lactacyd White Intimate gently lightens the intimate area within 4 weeks1 that's why it's preferred by 9 out of 10 Asian women2.
Lactacyd Revitalize has youth reviving benefits that goes beyond cleansing.  It promotes both skin elasticity and softness, it has Vitamin E and collagen which are known ingredients to enhance skin softness, suppleness and firmness. Users claim to achieve 90% skin youthfulness in just 10 days3.
Lactacyd All-Day Care combines natural milk extracts with light floral scent that gently cleanses and refreshes the intimate area. It also comes in handy All-Day Care Wipes for on-the-go feminine care.
Lactacyd Cool and Fresh, helps women stay pleasantly protected and confident with its longer-lasting freshness4. Made with menthol essences and milk extracts, this clear and mildly soothing variant effectively provides cooling and longer-lasting freshness against the sticky-icky feeling down there.
Nice to know, right?  Personally, I would reach out for the Lactacyd White Intimate, Lactacyd Revitalize or Lactacyd Cool and Fresh.  What would you reach out for?
No Two Women are Alike!
Disclosure:  Thanks to Redge of Entertainment Angle for inviting me to the launch.
September 10, 2014 By thegomom Leave a Comment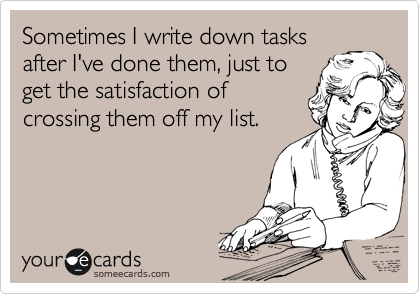 I totally relate to this!  I know it is weird because it takes up more time.  I mean why write down a task after it's done, right?  It's simply my tiny pat in the back.  It's alright Lilian, you can't do everything but you did something:-)
Write and Tick,
September 8, 2014 By thegomom Leave a Comment
You carried them for 9 months and now that the heavenly glory is out you smother him with kisses, hugs, cooing and all those crazy stuff in love parents would do.  And with extreme love comes a little bit of paranoia!  As in!  Parang lahat ng paranoid radars ko naka full alert on my first born!  Am I feeding too little?  Why is he not soiling his diaper enough?  Is the room too cold?  Or is it too hot?  Will the blanket cover his face?  What if he turns over and can't breathe?
I'm not sure kung ako lang praning (one of my endearing traits hehe),  but with my first child,  I wake up at night and look at him to make sure he is breathing.  Not content,  I put my hand on his chest to make sure he does.  Weird ko noh?
Heniway,  to combat my fears I would attend parenting seminars.  Decades ago they came in trickles but once I hear of one,  I would attend it.  Sabi nga nila,  with knowledge comes power!  Power to defeat the paranoid thoughts in my head!:-)
This Saturday, September 13, 2014, 1pm at Babyland, Shaw Boulevard, expecting and new parents can get their hands on baby proofing, safe sleeping, feeding safety, bath and skin care safety, healthy living and environmental safety tips.  Aptly called, "Safety Zone" ", the community charity event brought to us by Babyland Baby Stores and Halo SleepSack Philippines, will have experts conducting the event from 1pm-5pm.
In celebration of Baby Safety Month this September, "Safety Zone" apart from educating guests on child safety, aims to raise in support of Children's Hour.
Participants will be asked to donate a P150 guest fee, which will be wholly given to Children's Hour Foundation.  P150!  I used to pay P1,000 for seminars back then.  I would really recommend for you guys to be there this Saturday so you can put your worries to rest and give your baby the protection and safety he needs.  We didn't learn baby care in school, after all.
As a bonus,  (I think the information you will get is the golden prize), you can also enjoy great savings on a private sale of pre-selected brands that are certified safe and eco-friendly.  Healthy snacks, games, raffle prizes and loot bags worth over P10,000 will also be given away!
Kindly pre-register here in order to make sure a loot bag is reserved for you.
If you want to score free tickets to the event,  Halo Philippines, distributor of the award-winning and doctor-recommended Halo SleepSack wearable blankets, will make a donation on your behalf for any purchase from their official website.  This donation entitles you to one free event ticket.  Just indicate "Safety Zone" under the comments section when you check out.  This offer is valid for orders paid from now until Sept 12, 2014.
In order to help spread awareness for this charity event, Philips Avent Philippines is giving away a surprise gift (worth at least P1,000) to one lucky blog reader of TheGoMom!  Wooohooo!
Philips Avent is the leading brand in infant to toddler products.  With over 30 years of clinical experience in baby feeding, Avent researches and tests their products to come up with the best quality products that make a difference.  They will bring in an expert to talk about Feeding Safety at the Safety Zone Event.
To join, just follow the Rafflecopter requirements below:-)
The winner will be announced on Sept 12, 2014.  This contest is open to all Metro Manila residents.  The winner should bring a valid ID to claim her prize at the Safety Zone event.  All unclaimed prizes will be raffled off at the end of the event.
See you on Saturday moms and dads!  Let's learn and chika!:-)